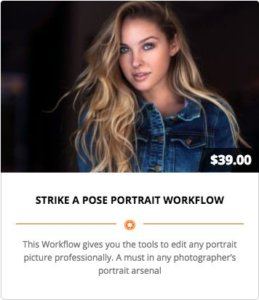 Last month I was given the opportunity to try out and review Sleeklens' Strike A Pose Portrait Workflow for Lightroom, presets and brushes. Since I love trying out new things, I was like 'oh yeah!'.
I found the installation to be simple and easy to complete as it included the standard installation steps as other presets. However, I did have to familiarize myself with the brush install. I have never really used brushes in Lightroom being that I see it as more of a standard darkroom application. I will be diving more into the brushes but for now I'm sticking to the presets.
I must say there are a lot of presets in this package, I believe it is 69 in total, to play with. I was a bit overwhelmed at first but then saw they were rather broke up into groupings: All In One, Base, Exposure, Color Correct, Tone-Tint, Polish and Vignette. Overall, I felt that many of the presets were rather 'heavy' for my personal taste. I do use Fader though and was able to adjust opacities to get outcomes that I liked. So far my favorites are: Sunset Portrait, Glow Baby Glow and Soft Fade. The color correction and tone/tinting presets work as they should, either fixing color casts or adding them. I like the Black Dreamy vignette and think I will be adding that to my current work flow.
In conclusion, I think there might be many useful applications for the Strike a Pose Portrait Workflow it will just take time playing with recipes to find just the right fit. After finding looks that fit my own style I will probably save them under my own settings to save time in noodling around with them.
I look forward to still trying out the brushes.